Activities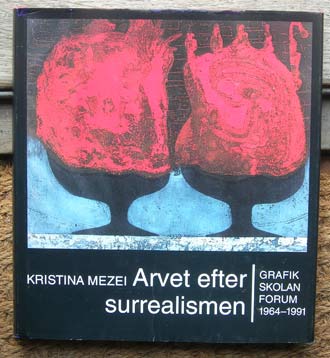 In accordance with its statutes, FfGK, the Swedish Fine Art Print Society, promotes printmaking as an artistic medium as its primary goal by disseminating knowledge about Swedish printmaking, supporting artists working with printmaking in Sweden and publishing original prints by these artists.
These objectives have expanded in different ways over the years and decades, particularly because artistic activities in Sweden, as in most other countries, have evolved and become more internationalized as time goes on.
There were Norwegian artists represented in FfGK's print portfolios at the turn of the previous century, not because of an insight into what the crystal ball could reveal about future prospects of internationalization. Rather it was due to the fact that Norway and Sweden were ruled by the same monarchy until this union was dissolved in 1905!
Swedish artists have worked and studied abroad, and foreign artists have lived, worked and taught here in Sweden.
There have often been exchanges, such as Swedish traveling exhibitions throughout Scandinavia and in Europe and even in other parts of the world, just as foreign exhibitions have been shown in Sweden. In this way Swedish artists and Swedish art audiences have been able to witness new trends, new techniques and new ways of approaching creativity. This is something which has also had an interesting effect on the prints which FfGK has published.
Over the years initiatives have been taken to arrange guest appearances in foreign countries by national institutions such as the Swedish Institute, NUNSKU (the Committee for Contemporary Swedish Art Abroad), Nationalmuseum as well as independent artists' organizations such as the Swedish Printmakers' Association (Grafiska Sällskapet) and Xylon. FfGk has sponsored a number of these exhibitions abroad with grants and loans of contemporary and historical Swedish prints. One result of FfGK's ambition to disseminate knowledge about printmaking, and primarily about Swedish printmaking, has been the awarding of grants for the publication of catalogues, books and dissertations about individual artists and artist organizations.
Many other print related exhibitions and seminars have received economic support and a number of printmaking workshops have received grants for specific kinds of equipment. For example The College of Printmaking Arts (Grafikskolan) in Stockholm received funds for a lithography press and Grafikens Hus in Mariefred was given a grant for a new motorized intaglio press.
One particular activity which was considered to be both for members and the general public has been the annual Members' Day. This event usually took place on a spring Saturday in May or June, first at Grafikens Hus in Mariefred until it was demolished in a devastating fire in 2014, and later on in Uttersberg at Galleri Astley and Grafikverkstan Godsmagasinet, and later at Litografiska Museet in Huddinge as well as the College of Printmaking Arts (Grafikskolan) in Stockholm. On Members' Day the prints included in the annual portfolio and the artists who created them were presented to the members and the public for the first time. The photo on the left was taken on Members' Day in 2015 at Grafikverkstan Godsmagasinet in Uttersberg. Artist Lars Nyberg presented some of the historical prints from FfGK's older portfolios with the assistance of Rachelle Puryear, then Chairman of the Board.
Unfortunately FfGK has had to curtail this popular tradition due to a lack of suitable facilities and resources, but hopefully Members' Day will be revived in the future!