What is FfGK, The Swedish Fine Art Print Society or Föreningen för Grafisk Konst?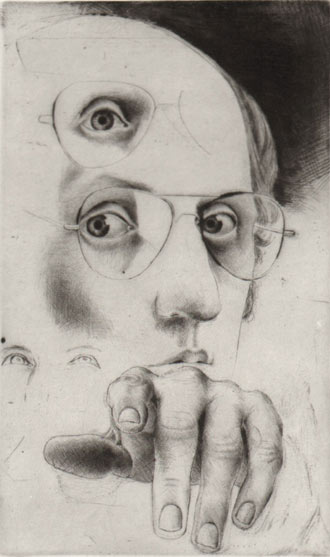 FfGK, The Swedish Fine Art Print Society or Föreningen för Grafisk Konst was founded in 1887 by curators at Nationalmuseum in Stockholm together with artists, print collectors and other individuals interested in fine art printmaking. From its inception up until the present day FfGK has been based at Nationalmuseum where it still has its print archive.
The primary objectives of FfGK are to support and promote printmaking as an artistic medium in Sweden and to thereby disseminate knowledge about printmaking and the printmaking arts. FfGK has provided economic support for the publication of books and dissertations on printmaking, and has also awarded grants for selected printmaking projects of artists and researchers, exhibitions and seminars, etc. For example FfGK donated a new intaglio press to Grafikens Hus in Mariefred, the printmaking center where the Society's annual Members' Days were held up until 2013. After Grafikens Hus was destroyed in a fire in 2014, FfGK's annual Members' Days took place at Galleri Astley in collaboration with Grafikverkstan Godsmagasinet for a number of years. In recent years the annual Members' Days have been held at different art institutions such as the College of Printmaking Arts (Grafikskolan) in Stockholm and Litografiska Museet. Unfortunately FfGK has had to curtail this popular tradition, but hopefully Members' Day will be revived in the future!
Members receive our annual portfolio which usually contains four original prints. The number of members is limited to 300, and the annual fee is 2,400 SEK. Private individuals and art orgganizations are also welcome to join FfGK. Individuals can apply by visiting our website and filling out an application. If there are no vacancies you can request to be placed on our waiting list so that you can receive information about the Society's events and invitations to our Members' Day gatherings. Anders Zorn and Carl Larsson were among the first to support FfGK, and over the years they created many prints for FfGK's portfolios. Other artists who made prints for FfGK during the early years were Axel Fridell, Stig Borglind, Annie Bergman, Bertil Bull Hedlund, Siri Magnus-Lagercrantz, Harald Sallberg, Birger Lundquist, and later on Karin Persson, Philip von Schantz, Nils G. Stenqvist, Kerstin Abram-Nilsson, Sven Ljungberg and others. More recently we have published prints by Lena Cronqvist, P.G. Thelander, Ulla Fries, Torsten Renqvist, Peter Dahl, Minako Masui, Pentti Kaskipuro, Rune Claesson, Cecilia Frisendahl, Jukka Vänttinen, Kristina Anshelm, Olle Bonniér, Eva Zettervall, Andreas Eriksson, Jacob Dahlgren, Jenny Olsson, and others.
The self-portrait to the left is a drypoint print by Lasse Söderberg which was included in FfGK's portfolio in 1979.